The Ophthalmology Residency Program at the University of Louisville
The Program
UofL's Ophthalmology Residency Program accepts four residents per year, making it the ideal size for those in search of a wealth of clinical experience and resources, complemented by close interaction and collaboration with faculty.
The program is four years in length, comprised of an integrated intern year and three years rotating through subspecialties in Ophthalmology.  Each year residents spend 3 to 6 months in primary care eye clinic at UofL's internationally-acclaimed Kentucky Lions Eye Center, with other rotations dedicated to a multitude of eye sub-specialties, including:

Comprehensive Ophthalmology
Cornea-External Disease
Glaucoma
Neuro-ophthalmology
Oculoplastics and Orbital Reconstruction
Pediatric Ophthalmology and Strabismus
Refractive Surgery
Retina and Vitreo-retinal Surgery
Uveitis
Contact Lenses
Low Vision
Ophthalmic Pathology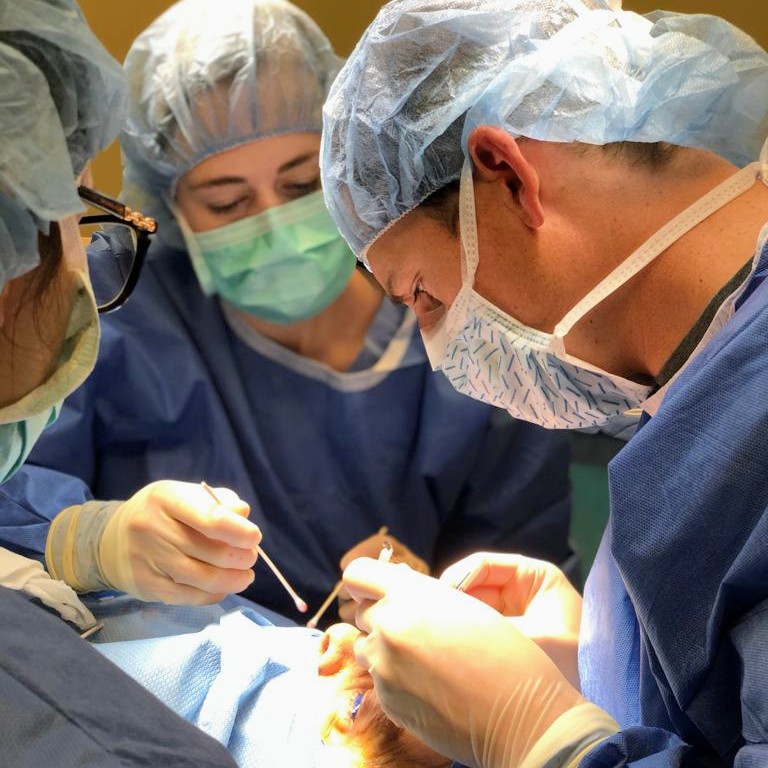 During the second year of residency, there is a three-month block for the Consult Service in which residents manage inpatients at University of Louisville Hospital, Norton Children's Hospital, Frazier Rehabilitation Institute, Jewish Hospital and Norton Hospital.
Over the course of the program, residents work closely with faculty one-on-one, receiving the input and feedback needed to ensure they have all the knowledge and skills to work independently as the residency program progresses and is completed.
Didactic Conferences are held every Friday morning, from 7:30 am to noon, in addition to regular sub-specialty conferences, journal clubs, surgical conferences, and sessions in the Wet Lab and Fresh Tissue Lab.
Faculty
Members of the Ophthalmology faculty at the University of Louisville are known around the country and the world for their groundbreaking research and development of new treatments and procedures, as well as their clinical experience. Though many of them are considered among the very best in their fields, they are always approachable and open to close collaboration with our residents. Faculty members make sure to provide ample direction, followed by informative feedback and input, while also allowing residents to function independently.
Kentucky Lions Eye Center
The primary care eye clinic, pediatric eye clinic and adult eye clinic are housed in the state-of-the art Kentucky Lions Eye Center, where residents see patients of all kinds with a wide range of diagnoses. They learn to work with attending physicians at each facility, broadening their skills and experience.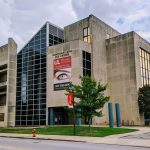 Hospital Facilities
Our Ophthalmology residents have the benefit of working at a large urban medical center that includes private & resident clinics as well as four hospitals, one of which is a Level I Trauma Center:
University of Louisville Hospital
Norton Children's Hospital
Jewish Hospital & Frazier Rehabilitation Institute
Norton Hospital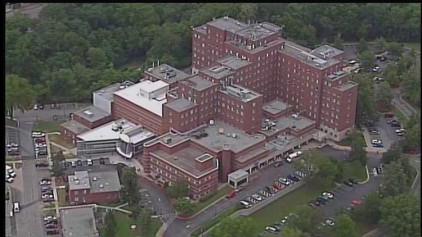 Veterans Affairs Medical Center
Over the three years, residents rotate through the Louisville Veterans Affairs Medical Center. There, they treat a very large and diverse patient population, and are provided valuable surgical experience. The VA Medical Center is home to a state-of-the art clinic, and a well-equipped, fully-functioning OR.

Research
The Accreditation Council for Graduate Medical Education (ACGME) requires that residents participate in scholarly activities, such as presenting at journal clubs and Grand Rounds, as well as publishing and participating in research. We support that requirement with a strong commitment to all of these activities.
Our faculty is doing groundbreaking research in most areas of ocular disease, from stem cell therapy for retinal degeneration to new treatments for Dry Eye Syndrome, providing a wide range of opportunities for resident-mentor collaboration. No matter what their interest, residents are likely to find a faculty member who will mentor them in that area. Residents also have the opportunity to present their research and results at regional and national meetings, including the annual Residents Day in June. In addition, Friday mornings are set aside for didactic seminars and conferences.
Wet Lab & Fresh Tissue Lab
Residents have access to the University of Louisville Ophthalmology Department's full Wet Lab and Fresh Tissue Lab facilities. Residents can hone their skills on state-of-the art equipment, practicing various eye and eyelid surgeries, as well as orbital surgeries and orbital dissection through the department's orbital dissection course. Residents are encouraged to use the labs as often as they like.
Success After Residency
Residents in UofL's Ophthalmology Program have gone on to do great things. Many have been accepted into strong fellowship programs at prestigious institutions including Harvard University, Johns Hopkins University and Washington University, among many others. Every resident who completes the program leaves exceptionally prepared for the professional challenges they'll face, whether they pursue further training, or a career in academic medicine, research or private practice.
Requirements
The University of Louisville Department of Ophthalmology and Visual Sciences will begin offering an integrated intern year beginning July 2020. This intern year will be affiliated with the University of Louisville Preliminary Medicine program and will include 3 months of ophthalmology during the PGY-1 year as well as opportunities for a few months of electives in radiology, pathology, pediatrics, endocrinology, dermatology, or other desired specialties. All applicants that match with the Department of Ophthalmology and Visual Sciences will be expected to complete the University of Louisville integrated internship and will be guaranteed a position through the National Residency Match Program (NMRP). A medical license to practice in the state of Kentucky is also required.
Application & Questions
Our program participates in the San Francisco Match. If you have questions or are interested in applying to our residency training program, please contact the Residency Program Coordinator, Erin Moody, at 502-852-0710 or email to erin.moody@louisville.edu
Meet Our Residency Program Director
Chris Compton, M.D.