Vision Research in the University of Louisville Department of Ophthalmology & Visual Sciences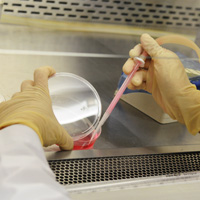 Our faculty, residents, fellows and pre- postdoctoral fellows are doing groundbreaking basic and translational research. Much of our research is devoted to defining and treating ocular diseases, which include blinding eye diseases due to retinal photoreceptor or pigment epithelium degeneration, dry eye syndrome, ocular autoimmune inflammation and proliferative vitreoretinopathy. To learn more about our individual faculty research and opportunities to work in their laboratories, click on their individual webpages.
Our faculty are well funded both from Federal sources (NIH) and through partnerships with biotechnology companies. Our research and clinical faculty collaborate to take findings from the laboratory bench to our clinics and representative publications can be found listed under each individual. Our faculty also are well known for their contributions to the scientific community, where they serve on editorial boards and a variety of federal and private study sections.
Every day UofL Department of Ophthalmology & Visual Sciences researchers are making new discoveries and breaking new ground to solve problems related to eye disease and its treatment.