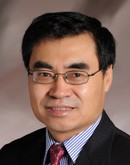 Associate Professor, Department of Ophthalmology and Visual Sciences
CONTACT INFORMATION:
301 E. Muhammad Ali Boulevard, Louisville KY 40202
Telephone : (502)-852-4768 Fax : (502)-852-4595
E-mail: q.lu@louisville.edu
EDUCATION:
B.S.:
Shandong University, Jinan, China, 1979-1983
M.S.:
Peking Union Medical College, Beijing, China, 1985-1988
Ph. D.:
The University of Texas at Houston, M.D. Anderson Cancer Center, 1991-1996
RESEARCH INTERESTS:
My research interests are focused on elucidating molecular mechanisms of three closely-related receptor tyrosine kinases, called Tyro3, Axl and Mertk (TAM), in regulation of phagocytic activity in professional and non-professional phagocytes, particularly in the retinal pigmental epithelium cells in the eye. Phagocytic clearance of the spent photoreceptor distal outer segment (OS) tips by the retinal pigmental epithelium (RPE) cells is essential to maintain photoreceptor homeostasis. Failure of RPE phagocytosis of the OS leads to retinitis pigmentosa (RP). Mutation in the Mertk receptor tyrosine kinase causes photoreceptor degeneration. To understand the molecular role of Mertk in phagocytosis, we have used Mertk mutated RPE cells as a model to identify Mertk downstream target genes or signaling molecules that are involved in regulation of the phagocytic events.
In addition, degenerating retina in the mutants generates rich apoptotic materials accumulating neo-epitopes that are captured and processed by antigen-presenting cells (APC) and subsequently presented to helper T cells, as a result, the mutant mice produce elevated retinal autoantibodies and increased retinal antigen-specific T cells. TAM receptors play a negative regulatory role in APC to prevent over production of proinflammatory cytokines in responses to pathogen infection. Taken advantage of current knowledge on the functional role of TAM receptors in APCs, we have set out to investigate the functional roles of TAM receptors in APCs activation and autoimmunity caused by hyperreactive TAM-deficient APCs to study pathogenesis of the sight-threatening eye inflammatory diseases, called uveitis in human; and found that mice lacking TAM receptors produced retinal autoantigen-reactive CD4+ T cells that can survive for long period and preserve retinal autoantigen reactivity upon antigen restimulation.
PUBLICATIONS:
(15 selected publications from 53).
Prasad, D., Rothlin, CV., Burrola, P., Burstyn-Cohen, T., Lu, Q., Garcia de Frutos, P., and Lemke, G. TAM receptor function in the retinal pigment epithelium. Mol. Cell. Neurosci. 2006, 33:96-108. PMID: 16901715.
Lu, Q., Xin, Y., Ye, F, Foulks, G., and Li Q. 14-3-3σ controls corneal epithelium homeostasis and wound healing. Invest Ophthalmol Vis Sci. 52(5):2389-96 (2011) PMID: 21228373; PMCID: PMC3081250
Ye F, Li, Q, Ke Y, Lu Q-J, Han L, Kaplan H, Shao H, and Lu, Q. TAM receptor knockout mice are susceptible to retinal autoimmune induction. Invest Ophthalmol Vis Sci. (2011), 52(7):4239-46 PMID: 21467176; PMCID: PMC3175940
Ye, F., Han, L., Lu, Q-J., Dong, W., Shao, H., Kaplan, JK., Li, Q., and Lu, Q. Retinal self-antigen induces a predominantly Th1 effector response in Axl and Mertk double knockout mice. Journal of Immunology, (2011), 187:4178-4186. PMID:21918185; PMCID: PMC3190567
Li, Q, Sambandam, S, Lu, HJ, Thomson, A, Kim, S, Lu, H, Xin, Y., and Lu, Q. Opposing roles of 14-3-3 and p63 in epidermal tumorigenesis. Carcinogenesis, 2011, 32(12):1782-1788. PMID 21926108; PMC3220605.
Lv, H, Lu, Q, Zheng, Y, and Li, Q. Notch signaling promotes the corneal epithelium wound healing. Molecular Vision 2012; 18:403-411. PMID 22355251, PMCID: PMC3283215
Li Q., Lu Q-J., Lv H-Y, Tian S., and Lu Q. Systemic autoimmunity in TAM triple knockout mice causes inflammatory brain damage and cell death. PlosOne, 2013 June 20, 8(6):e64812; doi:10.1371/journal.pone.0064812
Ji R., Tian S., Lu H.J., Lu Q-J., Zheng Y., Wang X., Ding J., Li Q. and Lu Q. TAM receptors affect adult brain neurogenesis by negative regulation of microglial cell activation. Journal of Immunology, (2013), December 15, 191 (12):6165-6177. PMID: 24244024; PMCID: PMC3870476.
Lv H., Lu Q., Gaddipati S., Kasetti RB, Wang W, Pasparakis M, Kaplan H J and Li Q. (2014) IKK2 Inhibition Attenuates Laser-Induced Choroidal Neovascularization. PLoS One. e87530. 10.1371/journal.pone.0087530.
Ji R., Meng L, Jiang X, CVM NK, Ding J, Li Q, and Lu Q. TAM receptors support neural stem cell survival, proliferation and neuronal differentiation. PlosOne, (2014). 9(12):e115140. PMID:25514676, PMC4267817.
Ji R, Meng L, Li Q, and Lu Q. TAM receptor deficiency affects adult hippocampal neurogenesis. Metab Brain Dis. 2015 Jun;30(3):633-44. doi: 10.1007/s11011-014-9636-y. Epub 2014 Dec 10. PMID:2548754, PMC4414696
Tang Y, Lu Q-J, Wei Y, Han L, Ji R, Li Q, and Lu Q. Mertk deficiency alters expression of microRNAs in the retinal pigment epithelium cells. Metab Brain Dis. 2015 Jan 22. PMID:25604732. PMC4492868.
Tang Y, Wu S, Liu Q, Xie J, Zhang J, Han D, Lu Q, Lu Q. Mertk deficiency affects macrophage directional migration via disruption of cytoskeletal organization.PLoS One. 2015 Jan 24;10(1):e0117787. PMID:25617898, PMC4305281.
Sambandam SA, Kasetti RB, Xue L, Dean DC, Lu Q, Li Q. 14-3-3σ regulates keratinocyte proliferation and differentiation by modulating yap1 cellular localization.J Invest Dermatol. 2015 Jun;135(6):1621-8. PMID:25668240, PMC4430425
Gaddipati S, Lu Q, Kasetti RB, Miller MC, Lu Q, Trent JO, Kaplan HJ, Li Q. IKK2 inhibition using TPCA-1-loaded PLGA microparticles attenuates laser-induced choroidal neovascularization and macrophage recruitment.PLoS One. 2015 Mar 24;10(3):e0121185. PMID: 25803615, PMC4372421