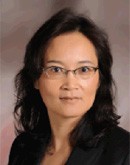 Hui Shao, Ph.D.
Professor, Department of Ophthalmology & Visual Sciences
Department of Microbiology and Immunology
CONTACT INFORMATION:
301 E. Muhammad Ali Boulevard, Louisville KY 40202
Telephone: 502-852-1329 Fax: 502-852-3183
E-mail: h0shao01@louisville.edu
EDUCATION:
MD:  Fudan University Shanghai Medical College, Shanghai,
China, 1982
PhD:  Free University at Berlin, Germany, Berlin, Germany, 1990
RESEARCH INTERESTS
My research interests focus on the immune regulation in ocular inflammation and autoimmunity. The goal of our research is to understand the molecular and cellular mechanisms involved in the pathogenesis of autoimmune diseases in the eye and design specific immune therapy to treat disease, especially uveitis.
Autoimmune uveitis is a leading cause of ocular morbidity. Although there are many well identified causes of intraocular inflammation, the etiology of autoimmune uveitis is not clear. We study the pathogenesis of autoimmune uveitis using rodent models. Specifically, we are interested in molecules required for autoreactive T cell activation in the periphery and within the eye; the interactions between T cells and ocular parenchymal cells; the balance between effector pathogenic Th1/Th17 cells and regulatory T cells; and the relationship of innate and adaptive immunity to the development of autoimmune uveitis.
Moreover, we are currently exploring new projects which are involved in exosomes from ocular cells in the regulation of intraocular inflammation and retinal vasculature. The long-term goal is to develop a novel therapy to control aberrant retinal angiogenesis as well as intraocular inflammation.
PUBLICATIONS (15 selected publications from 80)
Yun J, Xiao T, Zhou L, Beuerman RW, Li J, Zhao Y, Hadayer A, Zhang X, Sun D, Kaplan HJ, Shao H. Local S100A8 Levels Correlate With Recurrence of Experimental Autoimmune Uveitis and Promote Pathogenic T Cell Activity. Invest Ophthalmol Vis Sci. 59(3):1332-1342. PMID: 29625456
Yan J, Jiang G, Wang Y, Xiao T, Zhao, Y, Sun D, Kaplan HJ, Shao H. The HMGB1-CXCL12 complex promotes inflammatory cell infiltration in uveitogenic T cell-induced chronic experimental autoimmune uveitis. Immunol. 2017. 8:142. PMID: 28261206
Jiang G, Wang Y, Yun J, Hajrasouliha AR, Zhao Y, Sun D, Kaplan HJ, Shao H. HMGB1 release triggered by the interaction of live retinal cells and uveitogenic T cells is Fas/FasL activation-dependent. J Neuroinflammation. 2015. 12(1):179. PMID: 26394985
Sun D, Liang D, Kaplan HJ, Shao H. The role of Th17-associated cytokines in the pathogenesis of experimental autoimmune uveitis (EAU). Cytokine. 2015. pii: S1043-4666(14)00631-0. PMID: 25742774
Jiang G, Sun D, Yang H, Lu Q, Kaplan HJ, Shao H. HMGB1 is an early and critical mediator in an animal model of uveitis induced by IRBP-specific T cells. J Leukoc Biol. 95(4): 599-607. PMID: 24374967
Hajrasouliha AR, Jiang G, Lu Q, Lu H, Kaplan HJ, Zhang HG, Shao H. Exosomes from retinal astrocytes contain antiangiogenic components that inhibit laser-induced choroid neovascularization. J Biol Chem.2013 288(39): 28058-67. PMID: 23926109
Jiang G, Sun D, Kaplan HJ, Shao H. Retinal astrocytes pretreated with NOD2 and TLR2 ligands activate uveitogenic T cells. PLoS ONE 2012 7(7):e40510. PMID: 22808176
Yan K, Sun D, Jiang G, Kaplan HJ, Shao H. IL-22-induced regulatory CD11b+ APCs suppress experimental autoimmune uveitis. J Immunol.2011 187(5):21309-9. PMID: 21795593
Ke Y, Sun D, Jiang G, Kaplan HJ, Shao H. PD-L1hi retinal pigment epithelium (RPE) cells elicited by inflammatory cytokines induce regulatory activity in uveitogenic T cells. J Leukoc Biol.2010 88(6): 1241-9. PMID: 20739617
Ke Y, Jiang G, Sun D, Kaplan HJ, Shao H. Retinal Astrocytes respond to IL-17 differently than Retinal Pigment Epithelial cells. J Leukoc Biol. 2009 86(6):1377-84. PMID: 19690291
Jiang G, Ke Y, Sun D, Wang Y, Kaplan HJ, Shao H. Regulatory role of TLR ligands on the activation of autoreactive T cells by retinal astrocytes. Invest Ophthalmol Vis Sci. 2009 50(10):4769-76. PMID: 19443727
Ke Y, Liu K, Huang GQ, Cui Y, Kaplan HJ, Shao H†, Sun D. Anti-inflammatory role of IL-17 in experimental autoimmune uveitis. J Immunol. 2009 182(5):3183-90. PMID: 19234216. †:co-corresponding author
Ke Y, Jiang G, Sun D, Kaplan HJ, Shao H. Ocular regulatory T cells distinguish monophasic from recurrent autoimmune uveitis. Invest Ophthalmol Vis Sci. 2008 49(9):3999-4007.PMID: 18487362
Jiang G, Ke Y, Sun D, Han G, Kaplan HJ, Shao H. Reactivation of Uveitogenic T Cells by Retinal Astrocytes Derived from Experimental Autoimmune Uveitis-Prone B10RIII Mice. Invest Ophthalmol Vis Sci. 2008 49(1):282-9. PMID: 18172104
Zhang P, Sun D, Ke Y, Kaplan HJ, Shao H. The net effect of costimulatory blockers is dependent on the subset and activation status of the autoreactive T cells. J Immunol. 2007 178(1):474-9. PMID: 17182586