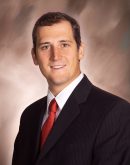 Jeremy Clark, MD
Assistant Professor
For Provider Information click here.
Medical Student Educator
Assistant Professor of Ophthalmology – Oculofacial Plastic and Reconstructive Surgery
Clinical Expertise:
Clinical evaluation, diagnosis and treatment of orbital and periorbital trauma and disease processes. These disease processes include aesthetic and reconstructive surgery specializing in the face, orbits, eyelids and lacrimal system, specifically: ophthalmic Graves' disease, repair of oculofacial/orbital trauma, development and reconstruction of the anophthalmic socket, correction of eyelid malposition, and tearing/lacrimal outflow issues.
Contact Information:
Kentucky Lions Eye Center
301 E. Muhammad Ali Boulevard, Louisville, KY 40202
Telephone: 502-588-0550 Fax: 502-588-0553
The Springs Medical Center
6400 Dutchmans Parkway, Suite 301, Louisville, KY 40205
Telephone: 502-742-2848 Fax: 502-742-2623
Education:
BS – University of Louisville
MD – University of Louisville School of Medicine
Ophthalmology Residency:
University of Louisville
Fellowships:
Oculofacial Plastic & Orbital Surgery – University of Louisville
Oculofacial Plastic & Orbital Surgery – Indiana University
CERTIFICATION:
American Board of Ophthalmology
PROFESSIONAL SOCIETIES & AFFILIATIONS:
American Academy of Ophthalmology
Association for Research in Vision and Ophthalmology
Greater Louisville Medical Society
Kentucky Academy of Eye Physicians and Surgeon
Louisville Academy of Ophthalmology
RESEARCH INTERESTS:
Currently investigating surgical treatment options and outcomes for Idiopathic Intracranial Hypertension.  I am studying the likelihood of enucleation/evisceration rates post perforating globe trauma.
Other research interests include:
Pathophysiologic and immunologic differences in the subtypes of ophthalmic Graves' disease. Antibiotic prophylaxis and their effect on infection rates in outpatient orbital surgery.
Publications:
Puri S, Duff SM, Mueller B, Prendes M, Clark JD  Hairpulling causing vision loss: a case report. Orbit. May(2018). DOI: 10.1080/01676830.2018.1459739
Clark JD, Randolph J, Sokol JA, Lee HB, Nunery WR.  Limiting Contracture in Post-Operative Myectomy Patients.  Dig Jour of Ophthol 2017 November 23(4)
Clark JD, Fernandez de Castro JP, Compton CJ, Lee HB, Nunery WR. Orbital Cellulitis and Corneal Ulcer Due to Cedecea; First Reported Case and Review of the Literature:  Orbit 2016 April 12:1-4
Compton CJ, Clark JD, Shipchandler TZ, Nunery WR, Lee HB. Combined Medial Canthopexy and Lateral Tarsal Strip for Floppy Eyelid Syndrome:  Am J Otolaryngol 2016 May-Jun,37(3):240-4
Clark JD, Compton CJ, Tahiri Y, Nunery WR, Lee HB.  Ophthalmic Considerations in Patients with Pfeiffer Syndrome type 2: a Case Presentation.  Am J Ophthalmol Case Repor 2016 July 2:1-3.
Thornton IL, Clark JC, Sokol JA, Heidenreich JO, Nunery WR. Radiographic evidence of prominent retro and suborbicularis oculi fat in thyroid associated orbitopathy.  Orbit. 2016 Feb;35(1):35-8
Sokol JA, Rosenberg J, Clark JD, Nunery WR, Lee HB, Wertenbaker C. Bilateral Orbital Myositis and Dacryoadenitis after Sclerosing Mediastinitis. Case Repor Clin Pathol. 2016. 3(vol 4).
Compton CJ, Clark JD, Nunery WR, Lee HB.  Recession and Extirpation of the Lower Eyelid Retractors for Paralytic Lagophthalmos.  Ophthal Plast Reconstr Surg. 2015 Jul-Aug;31(4):323-4
Timoney PJ, Clark JD, Frederick PA, Krakauer M, Horbinski C, Nunery WR. Foreign Body Granuloma following Orbital Reconstruction with Porous Polyethylene. Ophthal Plast Reconstr Surg. 2014 Nov 12.
Compton CJ, Clark JD, Thompson MP, Lee HB, Nunery WR. Nodular Fasciitis of the Orbit. Ophthal Plast Reconstr Surg. 2014 Nov 12.
Pine R, Clark JD, Sokol JA. CD56 Negative Extranodal NK/T-cell Lymphoma of the Orbit Mimicking Orbital Cellulitis. Orbit. 2013 Feb;32(1):45-8
Sokol JA, Clark JD, Lee HB, Nunery WR.  Pigmented Epithelioid Melancytoid Tumor of the Ocular Adnexa.  J Pediatr Ophthalmol Strabismus. 2010 Oct 21;47 Online:e1-4. doi: 10.3928/01913913-20101018-07
Book Chapter:
Jeremy Clark MD, Hui Bae Harold Lee MD. Perioperative Assessment of the Maxillofacial Surgery Patient: Problem-based Patient Management. Chapter 49: Ophthalmologic Injuries as a Complication of Maxillofacial Surgery.  Springer International Publishing. Pg. 675-690
Jeremy Clark MD, Richard Burgett MD. Focal Points: "Malignant Eyelid Tumors and Their Management". AAO.  Focal Points Module 2 2018.