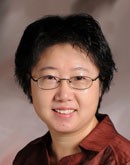 Qiutang Li, Ph.D.
Associate Professor
CONTACT INFORMATION:
301 E. Muhammad Ali Boulevard,
Louisville KY 40202
Telephone:502-852-2409 Fax: 502-852-6909
E-mail: q.li@louisville.edu
EDUCATION:
Ph.D:
Washington Univ, St. Louis MO – 1997
MS:
Peking Univ, Beijing, China – 1990
BS:
Peking Univ, Beijing, China – 1987
RESEARCH INTERESTS:
My lab has been interested in addressing biological and clinical questions using mouse models that have direct relevancy to the understanding, prevention, and treatment of eye disease.
1. Role of Hippo/Yap1 in the eye– A recent major effort has focused on the function of Hippo/Yap1 pathway in eye. Hippo signaling pathway is an evolutionarily conserved pathway that regulate stem cell/progenitor cell proliferation, fate determination, or apoptosis during development and malignant cells in carcinomas. The importance of YAP1 to eye was illustrated recently, however, the mechanisms are currently not clear. We are studying the cellular specific function of YAP1 in the eye and its regulatory mechanisms using conditional knockout mice.
2. IKK2/NF-kB inhibition of angiogenesis– We recently discovered that inhibition of IKK2/NF-kB pathway significantly attenuated the laser induced choroidal neovascularization formation; therefore, establishing that targeting to this pathway is a good candidate to develop a novel alternative therapeutics. We are investigating the molecular and cellular mechanisms of IKK2/NF-kB inhibition of angiogenesis. Understanding the link between IKK2/NF-kB and NV may have broad clinical implications for many disease including AMD, diabetic retinopathy and tumor formation.
PUBLICATIONS: (15 selected publications from 39)
Sambandam SA, Kasetti RB, Xue L, Dean DC, Lu Q, Li Q. 14-3-3σ regulates keratinocyte proliferation and differentiation by modulating Yap1 cellular localization. The Journal of investigative dermatology. 135(6):1621-8 (2015). PMID: 25668240.
Ma X, Chen Y, Xu W, Wu N, Li M, Cao Y, Wu S, Li Q, Xue L. Impaired Hippo signaling promotes Rho1-JNK-dependent growth. PNAS 112(4):1065-70 (2015). PMID: 25583514.
Gaddipati S, Lu Q, Kasetti RB, Miller MC, Lu Q, Trent JO, Kaplan HJ, Li Q. IKK2 inhibition using TPCA-1-loaded PLGA microparticles attenuates laser-induced choroidal neovascularization and macrophage recruitment. PloS one. 10(3):e0121185 (2015). PMID: 25803615.
Lu H, Lu Q, Gaddipati S, Kasetti RB, Wang W, Pasparakis M, Kaplan HJ, Li Q. IKK2 inhibition attenuates laser-induced choroidal neovascularization. PloS one. 9(1):e87530 (2014). PMID: 24489934.
Lu H, Lu Q, Zheng Y, Li Q. Notch signaling promotes the corneal epithelium wound healing. Molecular vision. 18:403-11 (2012). PMID: 22355251.
Li Q, Sambandam SA, Lu HJ, Thomson A, Kim SH, Lu H, Xin Y, Lu Q. 14-3-3σ and p63 play opposing roles in epidermal tumorigenesis. Carcinogenesis. 32(12):1782-8 (2011). PMID: 21926108.
Xin Y, Lu Q, Li Q. IKK1 control of epidermal differentiation is modulated by notch signaling. The American journal of pathology. 178(4):1568-77 (2011). PMID: 21435444.
Lu Q, Xin Y, Ye F, Foulks G, Li Q. 14-3-3σ controls corneal epithelium homeostasis and wound healing. Investigative ophthalmology & visual science. 52(5):2389-96 (2011). PMID: 21228373.
Xin Y, Lu Q, Li Q. 14-3-3sigma controls corneal epithelial cell proliferation and differentiation through the Notch signaling pathway. Biochem Biophys Res Commun. 19;392(4):593-8 (2010). PMID: 20100467.
Xin Y, Lu Q, Li Q. 14-3-3σ is required for club hair retention. Journal of Investigative dermatology. 130(7):1934-6 (2010). PMID: 20237493.
Li Q, Lu Q, Estepa G and Verma IM. Identification of 14-3-3 sigma mutation causing cutaneous abnormality in Repeated Epilation mutant mouse. PNAS 102(44):15977-82. (2005). PMID: 16239341.
Lu Q, Bottero V, Estepa G, Morrison L, Mercurio F and Verma IM. Enhanced NF-κB activation and cellular function in macrophages lacking IκB kinase 1 (IKK1). PNAS 102(35):12425-30. (2005). PMID: 16116086.
Li Q, Verma IM. NF-kappaB regulation in the immune system. Nat Rev Immunol. 2(10):725-34(2002). PMID: 12360211. Review
Li Q, Estepa G., Memet S., Israel A., and Verma IM. Complete lack of NF-κB activity in IKK1 and IKK2 double deficient mice: Additional defect in neurulation. Genes Dev. 14(14):1729-33 (2000). PMID: 10898787.
Li, Q., Van Antwerp, D., Mercurio, F., Lee, K.F., and Verma, I.M. Severe liver degeneration in mice lacking the IkappaB kinase 2 gene. Science 284(5412), 321-5 (1999). PMID: 10195897.