University of Louisville Diabetic Retinopathy Service
Knowing Your ABCs Can Save Your Eyesight!
If you have diabetes, you are already at risk for diabetic retinopathy, a group of eye problems that can cause severe vision loss or even blindness. High blood sugar levels due to diabetes can damage the blood vessels in your retinas, the layers in the eyes that sense light and help send images to the brain.
However, with early detection and management of your diabetes and general health, these problems can be prevented.
Just by visiting your ophthalmologist at least once a year you can significantly lower your risk of vision loss.
Take charge of your own health – learn your ABCs today!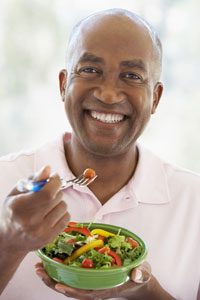 A is for A1C
A1C is a blood test that reflects your average blood sugar levels from the previous 3 months. It is a percentage that usually ranges from 4 to 12. High A1C results mean you are at risk for serious health problems. Your goal A1C should be 7.0 or lower.
B is for Blood Pressure
If you have high blood pressure, your heart is working harder than it should be. This can lead to major health issues, as well. Your goal blood pressure reading should be 130/80mmHg.
C is for Control Your Weight
Maintaining a normal body weight is absolutely essential for the control of diabetes and reducing the risks of many other health problems. If you lose 10% of your body weight your chances of having diabetes complications will be reduced. One way to control your weight is healthy eating. You don't have to give up your favorite foods, but paying attention to how much you eat and when you eat is very important. Being active is also essential. Regular physical activity can not only make you feel better in general, but can reduce your risk for health problems down the road.
Staying healthy when living with diabetes can be a challenge, but the more you focus on your ABCs, the easier it will be. If you have any questions about blindness caused by diabetes and how you can improve your health, please call our diabetic retinopathy clinic at 502- 852-7665.
For additional information about diabetic retinopathy please visit the following websites:
http://www.geteyesmart.org/
http://www.nei.nih.gov/diabetes/