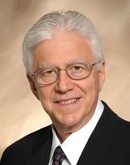 Henry J. Kaplan, M.D.
Evans Professor of Ophthalmology
Chairman, Department of Ophthalmology and Visual Sciences
Director, Kentucky Lions Eye Cente
Uveitis, Age-related Macular Degeneration, Hereditary Retinal Degeneration, Diabetic Retinopathy, Retinal Detachment.
CONTACT INFORMATION
301 E. Muhammad Ali Boulevard, Louisville KY 40202
Telephone: 502-852-5466 Fax: 502-852-8550
E-mail:hank.kaplan@louisville.edu
EDUCATION:
M.D.:
Cornell University Medical School, New York City, New York – 1968
OPHTHALMOLOGY RESIDENCY:
University of Iowa, Iowa City, Iowa – 1975-78
FELLOWSHIPS:
Ocular Immunology – University of Texas-Southwestern Medical School, Dallas, TX-1972-1974; Retina – Medical College of Wisconsin, Milwaukee, WI – 1978-1979
CERTIFICATION
American Board of Ophthalmology, 1979
RESEARCH INTERESTS:
My research is focused on retinal regeneration for the recovery of vision in age-related macular degeneration, as well as hereditary retinal degeneration; understanding the etiology and pathogenesis of autoimmune uveitis.
Age-related macular degeneration is the leading cause of blindness over age 55 in the Western world, and retinitis pigmentosa is the leading cause of hereditary retinal degeneration in the world. My interest and treatment of both of these diseases involves restoration of vision by replacing damaged retinal pigment epithelium and/or retinal neurons that are associated with the loss of vision in both diseases. We have focused on the use of stem cells (induced pluripotent stem cells, as well as embryonic stem cells) and tissue transplantation in an effort to accomplish this goal. Most of our studies have been performed in the mouse and swine. We have recently developed a model of the most common form of autosomal dominant retinitis pigmentosa (a Pro23His mutation in rhodopsin) in the NIH miniature swine in collaboration with the National Swine Resource Research Center at University of Missouri.
Autoimmune uveitis is a leading cause of ocular morbidity. Although there are many well identified causes of intraocular inflammation, the etiology of autoimmune uveitis is not clear. We study the pathogenesis of autoimmune uveitis using rodent models. Specifically, we are interested in the mechanisms responsible for immunologic privilege within the eye; the relationship of innate and adaptive immunity to the development of autoimmune uveitis; and the importance of toll-like receptors in the onset of intraocular inflammation.
PUBLICATIONS (15 selected publications from 223)
Liu Y, Xin Y, Ye F, Wang W, Lu Q, Kaplan HJ, Dean DC. Taz-Tead1 Links Cell-Cell Contact to Zeb1 Expression, Proliferation and Dedifferentiation in Retinal Pigment Epithelial Cells. Invest Ophthalmol Vis Sci. 2010 Jul;51(7):3372-8. Epub 2010 Mar 5. PMID: 20207963
Tamiya S, Liu L, Kaplan HJ. Epithelial-mesenchymal transition and proliferation of retinal pigment epithelial cells initiated upon loss of cell-cell contact. Invest Ophthalmol Vis Sci. 2010 May;51(5):2755-63. Epub 2009 Dec 30.20042656
Ke Y, Liu K, Huang GQ, Cui Y, Kaplan HJ, Shao H, Sun D. Anti-inflammatory role of IL-17 in experimental autoimmune uveitis. J Immunol. 2009 Mar 1;182(5):3183-90. 19234216
Franco LM, Zulliger R, Wolf-Schnurrbusch UE, Katagiri Y, Kaplan HJ, Wolf S, Enzmann V. Decreased visual function after patchy loss of retinal pigment epithelium induced by low-dose sodium iodate. Invest Ophthalmol Vis Sci. 2009 Aug;50(8):4004-10. Epub 2009 Apr 1.PMID: 19339739
Enzmann V, Yolcu E, Kaplan HJ, Ildstad ST. Stem cells as tools in regenerative therapy for retinal degeneration. Arch Ophthalmol. 2009 Apr;127(4):563-71. PMID: 19365041
Jiang G, Ke Y, Sun D, Wang Y, Kaplan HJ, Shao H. Regulatory role of TLR ligands on the activation of autoreactive T cells by retinal astrocytes. Invest Ophthalmol Vis Sci. 2009 Oct;50(10):4769-76. Epub 2009 May 14. PMID: 19443727
Cui Y, Shao H, Sun D, Kaplan HJ. Regulation of interphotoreceptor retinoid-binding protein (IRBP)-specific Th1 and Th17 cells in anterior chamber-associated immune deviation (ACAID). Invest Ophthalmol Vis Sci. 2009 Dec;50(12):5811-7. Epub 2009 May 20. PMID: 19458338
Ke Y, Jiang G, Sun D, Kaplan HJ, Shao H. Ocular regulatory T cells distinguish monophasic from recurrent autoimmune uveitis. Invest Ophthalmol Vis Sci. 2008 Sep;49(9):3999-4007. Epub 2008 May 16.PMID: 18487362
Liang L, Katagiri Y, Franco LM, Yamauchi Y, Enzmann V, Kaplan HJ, Sandell JH. Long-term cellular and regional specificity of the photoreceptor toxin, iodoacetic acid (IAA), in the rabbit retina. Vis Neurosci. 2008 Mar-Apr;25(2):167-77. PMID: 18442439
Jiang G, Ke Y, Sun D, Han G, Kaplan HJ, Shao H. Reactivation of uveitogenic T cells by retinal astrocytes derived from experimental autoimmune uveitis-prone B10RIII mice. Invest Ophthalmol Vis Sci. 2008 Jan;49(1):282-9. PMID: 18172104
Li Y, Atmaca-Sonmez P, Schanie CL, Ildstad ST, Kaplan HJ, EnzmannV. Endogenous bone marrow derived cells express retinal pigment epithelial cell markers and migrate to focal areas of RPE damage. Invest Ophthalmol Vis Sci. 2007 Sep;48(9):4321-7. PMID: 17724223
Tezel TH, Del Priore LV, Berger AS, Kaplan HJ. Adult retinal pigment epithelial transplantation in exudative age-related macular degeneration. Am J Ophthalmol. 2007 Apr;143(4):584-95. Epub 2007 Feb 14.
Bora PS, Hu Z, Tezel TH, Sohn JH, Kang SG, Cruz JM, Bora NS, Garen A, Kaplan HJ. Immunotherapy for choroidal neovascularization in a laser induced mouse model simulating exudative (wet) macular degeneration. Proc Natl Acad Sci U S A. 2003 Mar 4;100(5):2679-84. Epub 2003 Feb 14. PMID: 12589025
Sohn JH, Bora PS, Suk HJ, Molina H, Kaplan HJ, Bora NS. Tolerance is dependent on complement C3 fragment iC3b binding to antigen-presenting cells. Nat Med. 2003 Feb;9(2):206-12. Epub 2003 Jan 6. PMID: 12514742
Berger AS, Tezel TH, Del Priore LV, Kaplan HJ. Photoreceptor Transplantation in Retinitis Pigmentosa: Short-term Follow-up. Ophthalmology. 2003 Feb;110(2):383-91. PMID: 12578785