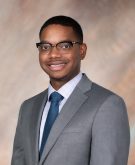 Edward T. Washington, MD
Assistant Professor
For Provider Information click here
Edward Theodore Washington Jr., M.D.
Assistant Professor of Ophthalmology Department of Ophthalmology and Visual Sciences
Kentucky Lions Eye Center
CONTACT INFORMATION:
301 E. Muhammad Ali Boulevard, Louisville KY 40202
Telephone: 502-588-0550
E-mail: edward.washington@louisville.edu
EDUCATION:
M.D.:
Morehouse School of Medicine, Atlanta, Georgia 2015
B.S.
Morehouse College, Atlanta, Georgia, 2011
Internship
Transitional Year– Emory School of Medicine, Department of Internal Medicine
Atlanta, Georgia – 2015-2016
Residency:
Ophthalmology – The Ohio State University,
Columbus, Ohio– 2016-2019
Fellowships:
Glaucoma Fellow: Ochsner Health System: Department of Ophthalmology,
New Orleans, Louisiana– 2019-2020
PROFESSIONAL SOCIETIES AND AFFILIATIONS:
American Academy of Ophthalmology
American Glaucoma Society
American Society of Cataract & Refractive Surgery (ASCRS)

RESEARCH INTERESTS:
My research interests include the long-term outcomes of glaucoma surgery on controlling intraocular pressure for neovascular glaucoma and the risk factors for ischemia and surgical failure. This includes forming an interventional treatment algorithm that results in the best vision and intraocular pressure for a specific patient depending on their severity scale (mild, moderate, or severe NVG). Risk factors are not limited to medical etiologies but include social factors such as economic status, ethnicity, medical treatment costs, and medical accessibility.
ABSTRACTS
Washington ET, Swogger J, Smith R, Moore D, Slabaugh M. Long Term Outcomes of Glaucoma Drainage Device Surgery for Patients with Neovascular Glaucoma. American Glaucoma Society (AGS) Annual Meeting, March 2018.