Kentucky Lions Eye Center
Building a Tradition of Excellence in Eye Care in Kentucky
In 1967, ground was broken on the Kentucky Lions Eye Research Institute at the corner of Muhammad Ali Boulevard and Floyd Street. Thirty years later a new 24,000 sq. ft. addition was completed, connected to the Institute by a striking glass atrium. Renamed the Kentucky Lions Eye Center, the building today serves as the epicenter of ophthalmology at the University of Louisville.
It is at the Kentucky Lions Eye Center that the clinicians, residents, fellows, researchers and educators of the UofL Department of Ophthalmology & Visual Sciences are doing the work that is changing the face of eye care. Patients who visit the on-site clinics benefit from the cutting-edge technology and research work of the department faculty in various sub-specialties of the eye. The Center includes: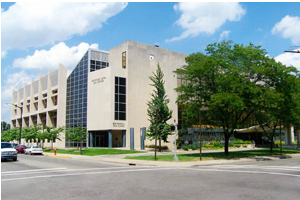 The Rounsavall Adult Clinic
Named for the family who largely underwrote the construction costs of the clinic when building the addition
WHAS Crusade for Children Pediatric Clinic
Named in tribute to the philanthropic initiatives of this community's annual Crusade for Children
The Wall of Vision
Celebrating the people from all walks of life who have generously supported the department over the years
Optical Shop
For patients who need prescriptions or adjustments to eyewear
Dedicated to restoring sight through corneal transplants, ocular research, and medical education
Headquarters for a charitable non-profit organization separate from the University of Louisville whose mission is to prevent and cure blindness by supporting research, and eye clinics & eye banks
Research Labs and Offices
For UofL research scientists, PhDs and MDs with faculty appointments, as well as residents and fellows
Conference Center
For continuing medical education, seminars and conferences
Over the years, the Kentucky Lions Eye Center has made possible the expansion of ongoing research programs, the advancement of ophthalmologic research, and the growth of training programs to produce the next generation of eye research experts. It serves as a facility dedicated to expanding basic eye research and ensuring the continued high level of eye care throughout the community, the state, the country and the world.
Patient & Visitor Information at the Kentucky Lions Eye Center
A private parking lot behind the center offers a paid parking lot exclusively reserved for patients and visitors. Rates are as follows:
ADDRESS
301 E. Muhammad Ali Blvd.
Louisville, Ky. 40202
EYE CLINICS
Adult Clinic: (502) 588-0550
Pediatric Clinic: (502) 588-0550
Primary Care Eye Clinic: (502) 588-0550
KENTUCKY LIONS EYE FOUNDATION
(502) 583-0564 or toll-free 1-800-232-5308
email info@kylionseye.org
www.kylionseye.org
UNIVERSITY OF LOUISVILLE LIONS EYE BANK
(502) 852-5457
www.ulleb.org