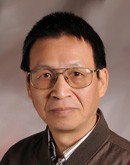 Yongqing Liu, Ph.D..
Assistant Professor of Ophthalmology Department of Ophthalmology and Visual Sciences
Kentucky Lions Eye Center
CONTACT INFORMATION:
301 E. Muhammad Ali Boulevard, Louisville KY 40202
Telephone: 502-852-8669 Fax: 502-852-0691
E-mail: y0liu016@louisville.edu
EDUCATION:
Ph.D.:
Wageningen University, Wageningen, the Netherlands – 1996
POSTDOCTORAL FELLOW:
Molecular Biology – The Samuel Roberts Noble Foundation, Ardmore, OK – 1998-2000; Functional and Comparative Genomics – Oak Ridge National Laboratory, Oak Ridge, TN – 2001- 2003
RESEARCH INTERESTS:
My research interest branches into two related areas: 1) converting differentiated somatic mammalian cells into stem-like cells through sphere formation in vitro, and re-directing them to specific lineages for tissue regeneration in vivo; 2) exploring possible roles of the zinc finger E-box binding transcription factor ZEB1 in induced pluripotent stem cell (iPSC) and in tumor initiation and progression.
Tissue malfunction caused by aging and inheritable diseases like retinitis pigmentosa (RP), and age-related macular degeneration (AMD), is difficult to restore. More and more hope now relies on advances in regenerative medicine in which stem cell application is part of the solution. Recently, we have successfully converted differentiated somatic cells into stem-like cells by self-promoting expression of endogenous stem cell factors through sphere formation in vitro. Now, we are hoping that the sphere-derived stem-like cells (SDSC) will facilitate patient-specific cell therapies in the clinic.
It is well-known that epithelial-mesenchymal transition (EMT) facilitates a metastatic phenotype in cancers; overexpression of EMT factors including ZEB1 is a hall marker in many malignant tumors. Mutation of RB1 gene is a single causal factor for retinoblastoma (RB) in the human eye, which also up-regulates ZEB1 expression in cells. We have identified ZEB1 as an important factor together with RB1 in regulation of cell cycle activities, thus essential for tumor initiation and progression, as well as stem cell maintenance and reactivation. To further understand how ZEB1 regulates tumor or stem cell behavior in vitro, we are using Zeb1 mutant transgenic mouse embryonic fibroblast (MEF) cells and its down- or up-regulation lentivirus to reveal possible molecular mechanism(s) in reprogramming somatic differentiated cells to stem-like cells.

PUBLICATIONS: (selected publications)
Wang W, Lee SJ, Scott PA, Lu X, Emery D, Liu Y, Ezashi T, Roberts MR, Ross JW, Kaplan HJ, Dean DC. Two-Step Reactivation of Dormant Cones in Retinitis Pigmentosa. Cell Rep. 15(2):372-85. 2016.
Dean KC, Huang L, Chen Y, Lu X, Liu Y. An Rb1-dependent amplification loop between Ets1 and Zeb1 is evident in thymocyte differentiation and invasive lung adenocarcinoma. BMC Mol Biol. 16(1):8. doi: 10.1186/s12867-015-0038-4, 2015.
Zhang P, Wang L, Rodriguez-Aguayo C, Yuan Y, Debeb BG, Chen D, Sun Y, You MJ, Liu Y, Dean DC, Woodward WA, Liang H, Yang X, Lopez-Berestein G, Sood AK, Hu Y, Ang KK, Chen J, Ma L. miR-205 acts as a tumour radiosensitizer by targeting ZEB1 and Ubc13. Nat Commun. 2014 Dec 5;5:5671. doi: 10.1038/ncomms6671.
Liu Y, Lu X, Huang L, Wang W, Jiang G, Dean KC, Clem B, Telang S, Jenson AB, Cuatrecasas M, Chesney J, Darling DS, Postigo A, Dean DC. Different thresholds of ZEB1 are required for Ras-mediated tumour initiation and metastasis. Nat Commun. 2014 Dec 1;5:5660. doi: 10.1038/ncomms6660. PMID: 25434817
Zhang P, Wei Y, Wang L, Debeb BG, Yuan Y, Zhang J, Yuan J, Wang M, Chen D, Sun Y, Woodward WA, Liu Y, Dean DC, Liang H, Hu Y, Ang KK, Hung MC, Chen J, Ma L. ATM-mediated stabilization of ZEB1 promotes DNA damage response and radioresistance through CHK1. Nat Cell Biol. 16(9):864-75, 2014.
Wang W, Zhou L, Lee SJ, Liu Y, Fernandez de Castro J, Emery D, Vukmanic E, Kaplan HJ, Dean DC. Swine cone and rod precursors arise sequentially and display sequential and transient integration and differentiation potential following transplantation. Invest Ophthalmol Vis Sci. 15;55(1):301-9, 2014.
Liu Y, Sanchez-Tillo E, Lu X, Huang L, Clem B, Telang S, Jenson AB, Cuatrecasas M, Chesney J, Postigo A, Dean DC. The ZEB1 Transcription Factor Acts in a Negative Feedback Loop with miR200 Downstream of Ras and Rb1 to Regulate Bmi1 Expression. J Biol Chem. 288(16):11572-80, 2013.
Liu Y, Sánchez-Tilló E, Lu X, Clem B, Telang S, Jenson AB, Cuatrecasas M, Chesney J, Postigo A, Dean DC. Rb1 family mutation is sufficient for sarcoma initiation. Nat Commun. 2013 Oct 23;4:2650. doi: 10.1038/ ncomms3650.
Liu Y, Mukhopadhyay P, Pisano MM, Lu X, Huang L, Lu Q, Dean DC. Repression of Zeb1 and Hypoxia Cause Sequential MET and Induction of Aid, Oct4, and Dnmt1, Leading to Immortalization and Multipotential Reprogramming of Fibroblasts in Spheres. Stem Cells. 31(7):1350-62, 2013.
Liu Y, Sanchez-Tillo E, Lu X, Huang L, Clem B, Telang S, Jenson AB, Cuatrecasas M, Chesney J, Postigo A, Dean DC. Sequential Inductions of the ZEB1 Transcription Factor Caused by Mutation of Rb and then Ras are required for Tumor Initiation and Progression. J Biol Chem. 288(16):11572-80, 2013.
Reynolds M, Lane AN, Robertson B, Kemp S, Liu Y, Hill BG, Dean DC, Clem BF. Control of Glutamine Metabolism By the Tumor Suppressor Rb. Oncogene. 2013 Jan 28. doi: 10.1038/onc.2012.635. [Epub ahead of print]
Sánchez-Tilló E, Liu Y, de Barrios O, Siles L, Fanlo L, Cuatrecasas M, Darling DS, Dean DC, Castells A, Postigo A. EMT-activating transcription factors in cancer: beyond EMT and tumor invasiveness. Cell Mol Life Sci. 69(20):3429-56, 2012.
Zhou L, Wang W, Liu Y, Fernandez de Castro J, Ezashi T, Telugu BP, Roberts RM, Kaplan HJ, Dean DC. Differentiation of Swine iPSC into Rod Photoreceptors and Their Integration into the Retina. Stem Cells. 29(6):972-80, 2011.
El-Naggar S, Liu Y, Dean DC. Mutation of the Rb1 pathway leads to overexpression of mTor, constitutive phosphorylation of Akt on serine 473, resistance to anoikis, and a block in c-Raf activation. Mol Cell Biol 29:5710-7, 2009. PMID: 19703998
Liu Y, Clem B, Zuba-Surma EK, El-Naggar S, Telang S, Jenson AB, Wang Y, Shao H, Ratajczak MZ, Chesney J, Dean DC. Mouse fibroblasts lacking RB1 function form spheres and undergo reprogramming to a cancer stem cell phenotype. Cell Stem Cell. 4:336-47, 2009. PMID: 19341623